The deep plane and extended deep plane face and neck lift are Dr. Gassner´s signature face lift procedures. Dr. Gassner was formally and extensively trained and sub-specialty trained in these techniques over 8 years at top centers in the US, including 7 years at the Mayo Clinic. He has subsequently cooperated extensively with high – end facelift surgeons, including Drs. Jacono, Gordon, Larrabee, and Quatela. Dr. Gassner has made significant contributions to the development of advanced deep plane face lift techniques, which have been adopted by many of his peers. His patients travel from all continents to receive treatment at the Finesse Center for Facial Plastic Surgery in Regensburg.
General Face Lift Information
The deep plane face and neck lift represent advanced types of procedures. Key to the deep plane method is that the deep soft tissues of the face and neck are brought back to the youthful position that they had about 15 years prior. The descended volume of the jowls and malar mounds is corrected by repositioning the underlying deep soft tissues. Thus, the cheeks become fuller and rounder again, while the central portions of the face loose the excess volume. The skin is effectively draped over the new facial contour without excessive tension, thus significantly reducing lines and wrinkles. The deep plane face lift is designed to avoid a "tight" look while maintaining the natural expression of the face. The goal is to achieve the most natural and lasting results. The incision lines are hidden in a way that allows to wear the hair up in a pony – tail.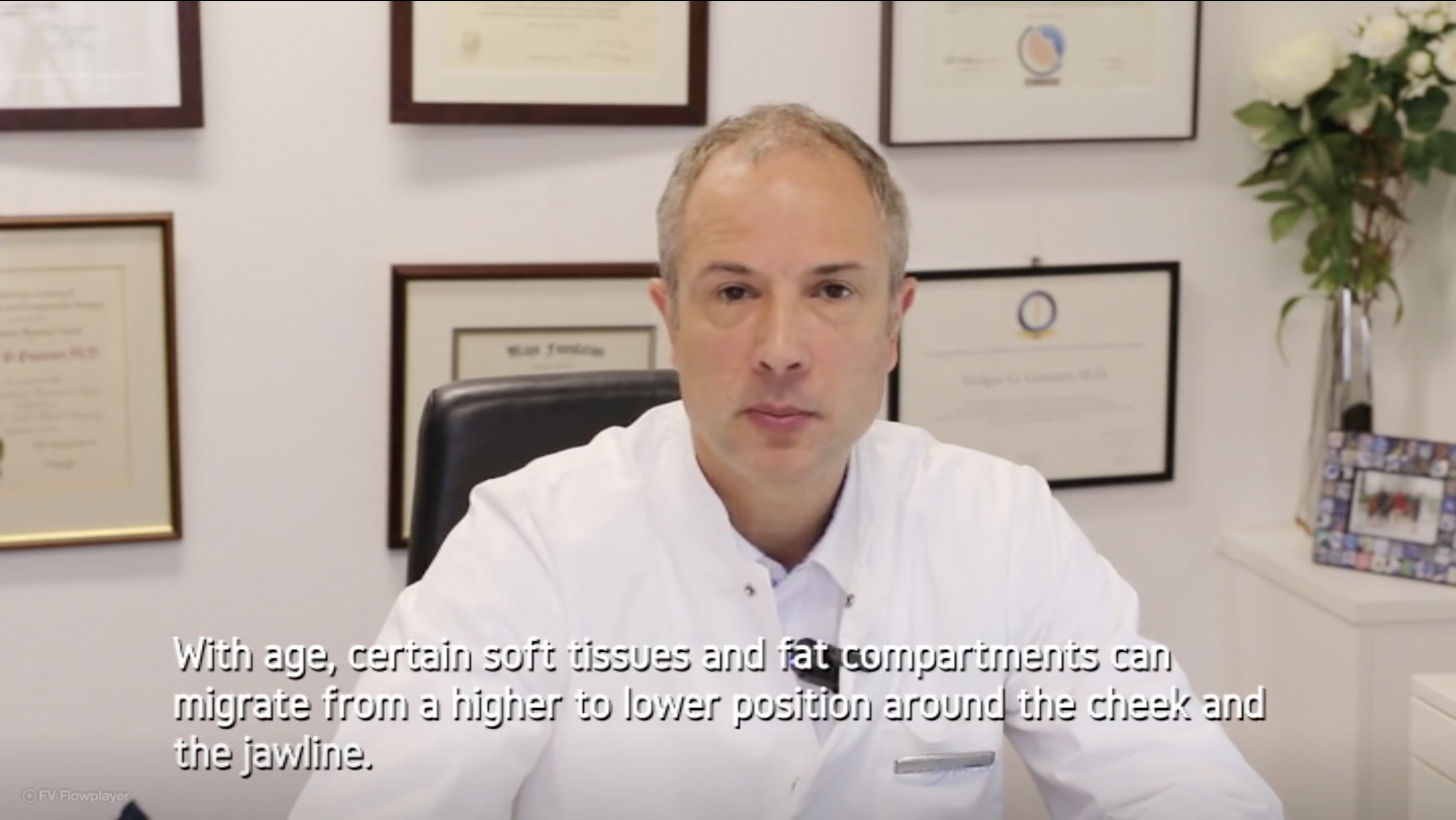 Dr. Gassner ist he only US trained and US Board certified facial plastic surgeon in Europe. He received his formal surgical training during a 7 year tenure at the Mayo Clinic and has achieved dual board certification in the USA. Dr. Gassner received his subsecialty training in facial plastic surgery at the University of Washington under the direction of fellowship directors Wayne Larrabee, Craig Murakami and Kris Moe. Dr. Gassner subsequently returned to Germany and directed the division of facial plastic surgery at the University of Regensburg for 10 years. He then opened the Finesse Surgicenter in Regensburg. Dr. Gassner has worked on developing and optimizing face lift techniques for over 20 years. He has published multiple widely referenced articles on the surgical anatomy oft he face lift as well as a globally recognized surgical atlas on face lift techniques. Dr. Gassner is a frequent lecturer at the most recognized scientific congresses globally. He was repeatedly a panelist on plenary sessions with Dr. Andrew Jacono and Dr. Neil Gordon, because he shares techniques and philosphies with these respected colleagues. Dr. Gassner performs a large volume of primary and revisional deep plane face lift procedures, often paired with an endoscopic forehead lift, upper and lower eyelid blepharoplasty.
Literature
Gassner HG, Rafii A, Young A, Murakami C, Moe KS, Larrabee WF Jr. Surgical anatomy of the face: implications for modern face-lift techniques. Arch Facial Plast Surg. 2008 Jan-Feb;10(1):9-19.

The "Segmental SMAS Model": A Didactic Concept of Face and Neck Lift Anatomy. Gassner HG, Magdum AA, Hanga D. Facial Plast Surg. 2020 Aug;36(4):337-350.

Larrabee WF, Gassner HG, Walsh WE. The Art and Craft of Facial Rejuvenation – A Surgical Atlas. PMPH, Sehlton, Connecticut, 2012

Dr. Gassner with Drs. Gordon, Williams and Jacono, Face Lift Panel, plenary session, American Academy for Facial Plastic Surgery:

Professor Gassner is your globally recognized expert in all established face lift techniques, including the Mini-Lift, the SMAS-Lift, and the "Deep Plane" Face Lift. His signature procedure is the "Extended Deep Plane Face and Neck Lift", frequently combined with an "Endoscopic Forehead Lift".
For minor skin aging, smaller procedures can be used and carried out on an outpatient basis under local anesthesia.  The "Mini Face Lift" can address the areas in front of the ear and the neck below the ears. This procedure may be carried out under local anaesthesia with sedation.
More advanced face lift techniques are required to address the nasolabial folds, the jowls and the central neck and chin. A "SMAS Face Lift" addresses the midface and the neck more profoundly than a "Mini Lift".
The most profound effects result from a "Deep Plane Face and Neck Lift" Procedure. Reduntant tissues below the chin, deep nasolabial folds, a washed – out mandibular contour and visible jowls are all effectively addressed with deep plane techniques. Frequently, patients notice that treatment with fillers are ineffective or look "done", because too much tissue volume in the midface has been treated with even more volume. A "Deep Plane Face and Neck Lift" is performed under general anaesthesia. Patients are admitted for over-night observation. Subsequently, our patients spend time in the neighbouring hotel. Care can be organized through our office or our cooperating agency.

Photo: Improvement of the midfacial contour before and one year after Deep Plane Face and Neck Lift performed by Dr. Gassner.

Photo: Improvement of the neck before and one year after Deep Plane Face and Neck Lift performed by Dr. Gassner.
An endoscopic forehead lift is frequently combined with other face lift techniques. This allows to achieve a more balanced and fresher appearance around the eyes and the forehead.

Photo: Improvement of the forehead before and one year after Endoscopic Forehead Lift performed by Dr. Gassner.
Revision surgery after previously performed facelift surgery is an important aspect of the treatments offered by Prof. Gassner.  In a revisional surgery, a series of corrections can be carried out: most frequently, an insufficient or incomplete result is corrected. Additionally, scars which are too wide or are too far forward can be addressed. Also, hairless areas behind the ear or above the ear can be improved. Moreover, changes of the ear lobe or the position of the entire ear can be corrected. Dr. Gassner is happy to take the time to explain to you what changes are realistic based on your individual anatomy and what would be involved in the process.
Please feel free to send photos of your face and neck taken from the front and the side in front of a neutral background from about 6 ft (2 m) distance and send them to
info at)finesse.center
You will receive a brief free assessment of recommended treatment and cost.
A Face Lift is often performed under general anesthesia.  Prior to the surgery, Professor Gassner will explain thoroughly and in detail all of the considerations of the operation.  These individually adapted specifications should be carefully followed.
The following aspects of the preperation before a Face Lift have only a generally descriptive character.  A private consultation cannot be replaced with general guidelines.  Please only follow these guidelines after consultation with Prof. Gassner.  If the content of the private consultation differ from the following remarks, the information from the private consult will always take priority.
Blood thinning substances can increase the risk of bruising.  Therefore, please abstain beginning at least 2 weeks before the procedure.  Non-prescription substances that have a blood thinning effect include: garlic, gingko and vitamin preparations as well as various naturaopathic preparations.  Prescription medications and some over-the-counter medicines that have a blood thinning effect include Aspirin® and other painkillers (e.g. Voltaren®, Diclofenac®, Ibuprofen®, Felden®). Any changes in the use of prescription drugs must, of course, be carried out by the attending personal physician.  As an alternative, some doctors may prescribe medications such as Benuron®, which do not have a blood thinning effect.
Nicotine degrades the blood supply to the skin, therefore, patients should cease cigarette consuption 10 days before-to 14 days after a Face Lift operation.  Also, the consuption of alcohol should be avoided from one week before to one week after the surgery.  Sun radiation can lead to inflammation of the skin.  Therefore, direct sunlight and tanning beds (Solarium) should be avoided two weeks before a face lift and at least 4 weeks after surgery.  Also, good sun protection should always be applied; sunscreen with an SPF of 50 as well as a sun hat.
On the evening before the procedure, you should gently remove all traces of make-up with high quality make up remover.  You can apply your usual night cream.  On the morning of the procedure, gently wash your face thoroughly and do not apply make-up.
A Face Lift is individually catered to the patient, therefore, post-operative care is also specific to the individual.  However, there are generally guidelines for post-treatment care. The following recommendations are for those patients of Dr. Gassner who have also had an in-depth consultation with him personally and are undergoing treatment by him personally.
A Face Lift can be performed on an outpatient basis or with an in-patient stay.  The dressing is changed the morning after surgery.  Incision lines should be kept moist with an ointment for 10 days.  Often, the bandage can be replaced by a commercial compression dressing that supports the skin under the neck that needs to be worn for 10 days continuously (day and night) and an additional 10 days just at night.  The incision lines should be cleaned and should be covered in a nourishing ointment at least the first 10 days.
You are advised to avoid sun exposure, sauna and solarium for three months. Sports with gentle intensity may be resumed after 3 weeks and then slowly advanced. Full exercise is resumed three months after the procedure. Follow-up visits are scheduled at 3 months and 1 year postoperatively to complete the early postoperative care.
Fully coverage make-up can be worn after about 2 weeks post-op.   Also about this time, the swelling has often declined enough that traces of the operation iare often not noticable to the naked eye.
The cost of a deep plane face lift procedure includes the surgery fee, general anaesthesia, over-night observation, and routine postoperative care. Dr. Gassner has received the same US training and performs exactly the same techniques that run up to $ 200.000 in the US.
Frequently, procedures like upper and lower eyelid blepharoplasty, endoscopic forehead lift and fat transfer are combined with a deep plane face lift procedure. Additional services up to full concierge service from and to the home in the US and Canada are available. Our concierge service is US based, coordinated by dedicated specialized with expertise in the medical field and in the travel industry.
The cost of a deep plane face lift begins at about € 15.000 at the Finesse Center Regensburg.
For more information on service packages and prices, please contact Daria at our US service agency at
finessefacelift(at)gmail.com
Prices are equal, whether booked through the service agency or directly through our office.
Please feel free to send photos of your face and neck taken from the front and the side in front of a neutral background from about 6 ft (2 m) distance and send them to
info (at) finesse.center
You will receive a brief free assessment of recommended treatment and cost.