The use of modern Face Lift techniques is primarily aimed at ameliorating and correcting the visible effects of aging. Professor Gassner finds it of particular importance to create natural looking results in Face Lift surgery. He adapts the appropriate surgical techniques to your individual skin and tissue characteristics and, of course, your wishe and expectations. Professor Gassner takes time to profoundly discuss and plan your treatment.
General Face Lift Information
Changes due to the aging process can include a loosening of the face and neck skin, forming deeper lines and furrows. The fat pads of the cheek descend towards the mouth, creating lines around the mouth, the transition from the face to the neck becomes blunt as jowls form and fullness under the chin can be seen.  This relaxation of the deep connective tissue is, therefore, of particular importance. Oftentimes, a lasting and natural appearing result can only be created by mobilizing and repositioning the deep connective tissue (SMAS, Platysma). Excessive stretching of the skin must be avoided as this can lead to a masked appearance, the patient looking "operated on" and less desireable results. Since the tissue changes manifest differently, an individually adapted Face Lift procedures is required for each patient and for each operation.  This is why Dr. Gassner takes the time to develop a customized treatment based on your individual needs, expectations and possibilities for results.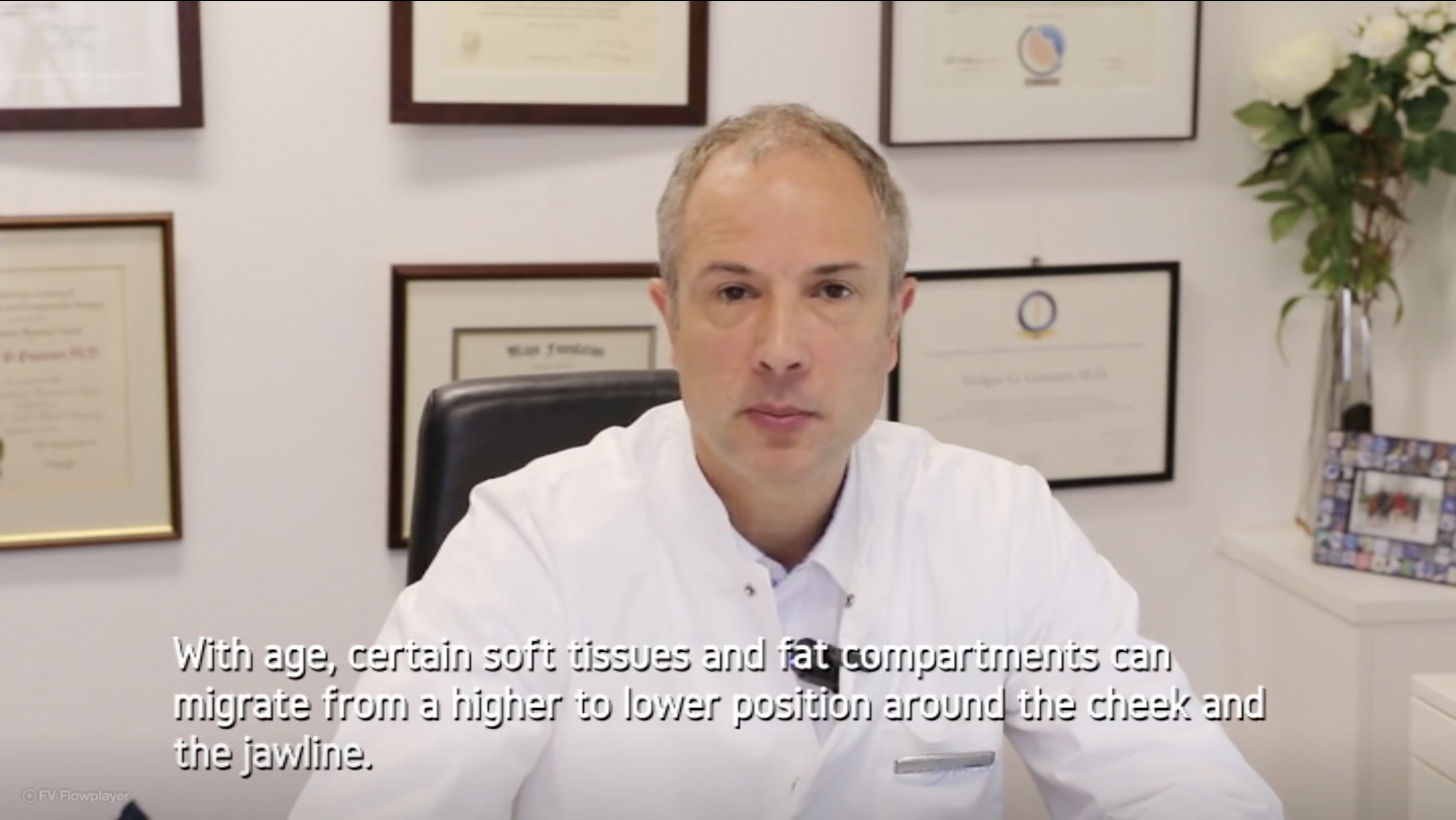 Prof. Gassner is an internationally recognized expert in the field of Face Lift surgery.   His education entailed learning all established Face Lift techniques under the guidance and training of another world-renowned expert, Prof. Wayne Larrabee in Seattle.  As a result of being awarded the Sir Howard Delf Gillies Award, Prof. Gassner performed extensive research on the surgical anatomy of Face Lift operations on 100 anatomic specimen. The results of this research were published in a widely recognized scientific paper which is frequently referenced by other authors. In a specialized surgical textbook ("The Art and Craft of Facial Plastic Surgery – a surgical atlas") Dr. Gassner and Dr. Wayne Larrabee of Seattle in coordination with artist Dr. Walsh in Minneapolis, describes the various Face Lift techniques in detail. Prof. Gassner demonstrates many different Face Lift techniques at international surgical courses and often lectures on Face Lift techniques at conferences worldwide.  His experience of over 500 Face Lift operations is demonstrative of his expertise and on-going experience. Professor Gassner also performs corrective surguries using these techniques for instances of changes in the hairline, noticeable scars, displacement of the earlobes as well as the entirety of the ear.
Literature
Gassner HG, Rafii A, Young A, Murakami C, Moe KS, Larrabee WF Jr. Surgical anatomy of the face: implications for modern face-lift techniques. Arch Facial Plast Surg. 2008 Jan-Feb;10(1):9-19.
Larrabee WF, Gassner HG, Walsh WE. The Art and Craft of Facial Rejuvenation – A Surgical Atlas. PMPH, Sehlton, Connecticut, 2012
It is of great importance the facial tissues via broad and harmonious movements into a new position. The more complete the deep tissues are re-positioned, the more lasting and natural the result usually appears as a rule.   It is important to take into special consideration the individual anatomy and implement the applicable procedure accordingly.   Professor Gassner is an expert in all established face lift techniques including the Mini-Lift, the SMAS-Lift, the "Deep Vector" Face Lift and the "Deep Plane" Face Lift.
Often, a more refined approach for an individual situation and a combination of procedures is required. The Mini-Lift is used to address wrinkles and some loose skin around the sides of the face.  In cases of more pronounced changes, connective tissue under the skin of the cheeks and neck is re-positioned to where they would be located at a younger age and the overlying skin is draped without tension over the re-positioned connective tissue. A central goal of all of these techniques is to avoid a "mask" look, overcorrected or "operated on" surgery results such as those seen as a result of older methods.
Contemporary Face Lift techniques are characterized by a more natural and long-lasting result.  The operation can be performed in combination with other interventions such as blepharoplasty (correction of the eyelids).  The techniques particularly suited to you and which changes can be expected during the healing phase can, of course, only be assessed after an in-depth consultation.  Should you have questions or are interested in the possibilities and risks involved in a procedure, please use our "Contact" form, or call or email us directly.
For minor skin aging, smaller procedures can be used and carried out on an outpatient basis under local anesthesia.  Modern surgical procedures have made it possible to correct significant aging changes sustainably.  The "Mini-Lift", the so-called "SMAS" lift, the "Deep Vector" face lift and the "Deep Plane" face lift can all be helpful in creating a more youthful appearance.  Prof. Gassner carries out all of the important techniques with many years' experience and a large number of cases.
Literature: Gassner HG, Rafii A, Young A, Murakami C, Moe KS, Larrabee WF Jr. Surgical anatomy of the face: implications for modern face-lift techniques. Arch Facial Plast Surg. 2008 Jan-Feb;10(1):9-19.
Revision surgery after previously performed facelift surgery is an important aspect of the treatments offered by Prof. Gassner.  In a revisional surgery, a series of corrections can be carried out: scars which are too wide or are too far forward, or in front of hte ear can be improved, changes in hair growth, e.g. hairless areas behind the ear or above the ear can be corrected, changes of the ear lobe or the position of the entire ear can be repositioned.  And a renewed slackening of the throat and facial skin can be treated.  The changes mentioned generally require a renewed lifting of the facial skin in the affected areas and frequently involves repositioning portions of the deep tissue.  Dr. Gassner is happy to take the time to explain to you what changes are realistic based on your individual anatomy and what would be involved in the process.
A Face Lift is often performed under general anesthesia.  Prior to the surgery, Professor Gassner will explain thoroughly and in detail all of the considerations of the operation.  These individually adapted specifications should be carefully followed.
The following aspects of the preperation before a Face Lift have only a generally descriptive character.  A private consultation cannot be replaced with general guidelines.  Please only follow these guidelines after consultation with Prof. Gassner.  If the content of the private consultation differ from the following remarks, the information from the private consult will always take priority.
Blood thinning substances can increase the risk of bruising.  Therefore, please abstain beginning at least 2 weeks before the procedure.  Non-prescription substances that have a blood thinning effect include: garlic, gingko and vitamin preparations as well as various naturaopathic preparations.  Prescription medications and some over-the-counter medicines that have a blood thinning effect include Aspirin® and other painkillers (e.g. Voltaren®, Diclofenac®, Ibuprofen®, Felden®). Any changes in the use of prescription drugs must, of course, be carried out by the attending personal physician.  As an alternative, some doctors may prescribe medications such as Benuron®, which do not have a blood thinning effect.
Nicotine degrades the blood supply to the skin, therefore, patients should cease cigarette consuption 10 days before-to 14 days after a Face Lift operation.  Also, the consuption of alcohol should be avoided from one week before to one week after the surgery.  Sun radiation can lead to inflammation of the skin.  Therefore, direct sunlight and tanning beds (Solarium) should be avoided two weeks before a face lift and at least 4 weeks after surgery.  Also, good sun protection should always be applied; sunscreen with an SPF of 50 as well as a sun hat.
On the evening before the procedure, you should gently remove all traces of make-up with high quality make up remover.  You can apply your usual night cream.  On the morning of the procedure, gently wash your face thoroughly and do not apply make-up.
A Face Lift is individually catered to the patient, therefore, post-operative care is also specific to the individual.  However, there are generally guidelines for post-treatment care. The following recommendations are for those patients of Dr. Gassner who have also had an in-depth consultation with him personally and are undergoing treatment by him personally.
A Face Lift can be performed on an outpatient basis or with an in-patient stay.  The dressing is changed the morning after surgery.  Incision lines should be kept moist with an ointment for 10 days.  Often, the bandage can be replaced by a commercial compression dressing that supports the skin under the neck that needs to be worn for 10 days continuously (day and night) and an additional 10 days just at night.  The incision lines should be cleaned and should be covered in a nourishing ointment at least the first 10 days.
You are advised to avoid sun exposure, sauna and solarium for three months. Sports with gentle intensity may be resumed after 3 weeks and then slowly advanced. Full exercise is resumed three months after the procedure. Follow-up visits are scheduled at 3 months and 1 year postoperatively to complete the early postoperative care.
Fully coverage make-up can be worn after about 2 weeks post-op.   Also about this time, the swelling has often declined enough that traces of the operation iare often not noticable to the naked eye.
Face Lift operations are, generally speaking, not covered by health insurance.  Possible exceptions include patients who are experiencing facial paralysis.
The price of a Face Lift surgery depends on the type of Face Lift being performed, the type of anesthesia required, whether there are additional procedures performed, as well as whether the procedure is ambulatory or with one overnight stay in the hospital.
The price of a Face Lift is often an important factor in their decision of whether or not to undergo surgery.   As a matter of course, safety standards as well as the experience and expertise of the surgeon and should meet the highest requirements in order to obtain the best possible result for the investment for as long as possible. Many experts agree that offers of a very low price as well as those prices in the very high range should be examined with particular care.
We are able to provide you with a more detailed cost projection and with analysis of your photographs.  Please email us or send us printed photos taken in front of a light background per the following instructions:  The photo should be taken from a distance of about 2 meters with a digital camera and should show 1) the entire face and neck from the front, 2) from a 45 degree angle and 3) from 90 degrees on either side.
Please let us know what other techniques or procedures are of interest.  Also, please keep advised that we cannot be responsible for the data security of photos and information sent per email.
Exact costs for a Face Lift can ultimately be decided once a thorough discussion and detailed consultation has taken place.