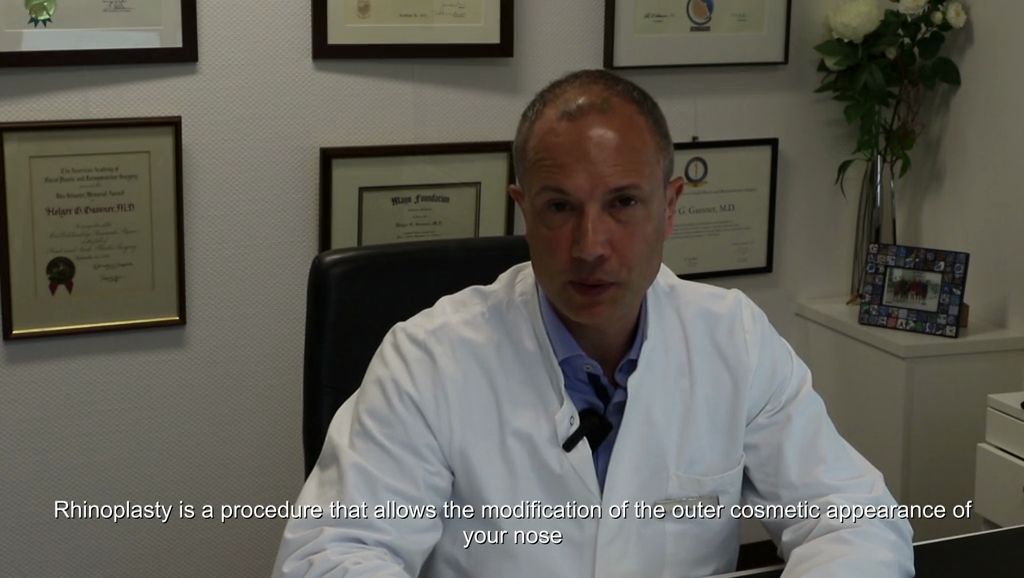 Dr. Gassner is your globally recognized expert in cosmetic and functional rhinoplasty. He is a regular speaker on the subject at international congresses, including the world-renowned "Advances in Rhinoplasty", "AAFPS Conference" and IFFPSS Conference". Dr. Gassner routinely performs demonstrations of rhinoplasty operations to international audiences at surgical congresses. As Director of the congress, "The European Course in Endonasal Rhinoplasty", he directs one of the largest European conferences in facial plastic surgery, with a faculty and guest speakers of world-renowned recognition. Professor Gassner has written widely referenced publications and book chapters on the topic of nasal surgery. He performs between 4 and 6 rhinoplasties per week and has so far completed over 3000 rhinoplasty surgeries. Approximately two-thirds of these operations are primary operations and one-third revision surgeries. Dr. Gassner receives referrals for primary surgery, revision surgery and second opinions on a regular basis from regional and international colleagues. His patients include prominent figures from the media, fashion, and professional sports. On Germany's most significant patient evaluation portal "Jameda", Dr. Gassner is listed Germany´s No. 1 for the search term "Nasenoperation" (nose surgery). Professor Gassner has revised Miss Universe after two previous externally performed rhinoplasties with career – limiting deformities. The model is now back on the global stage with great success.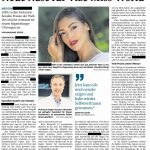 Click to view article in English
N N is one of the most beautiful women of the world. She trusted her face to a Regensburg surgeon.
BY MARIANNE SPERB.
N N is one of the most beautiful women in the world. After two unsuccessful operations of her nose, she hardly dared to be among people anymore. She sought help from a surgeon in Regensburg. "I was bitter," says N N. "I couldn't get any invites or accept offers for shootings. I no longer dared to post pictures to my social media accounts." For the 30-year-old, looking good is an essential aspect part of their job. She is a star in Europe and present in the media, as an actress, as the cover on magazines like "Cosmopolitan", as a face for cosmetics companies and as an influencer. What N N looks like and what she wears, sets trends. 2004 she became the most beautiful woman in Hungary and in the same year she just barely missed the title of Miss World in London. The 1.73 meter tall beauty came in second.
Operation lasted four hours
N N had problems breathing through her nose and wanted the looks of her nose corrected. A first intervention was unsatisfactory, the result of a second surgery rather worse than better. "A happy coincidence brought me in contact with Professor Holger Gassner. I will be grateful to him for the rest of my life." she says. "Now I am happy to show myself again and have regained my self-confidence." "The surgery was difficult," says Professor Holger Gassner. For four hours he operated. For the reconstruction he also took cartilage from behind the ear. "If he wasn't so much with his heart and soul in his profession, I certainly couldn't be so positive today to tell about the operation," says das model.
It became evident only during the procedure how extensive the tissue changes were. N N thought it was unthinkable to have a beautiful nose again. No body part is more prominent placed as the nose. A millimeter decides on the aesthetics. There are no standardized proportions how a beautiful nose should look. It is in the mind and hands of the surgeon. Holger Gassner has operated around 2000 noses and is in high demand as a speakers at international congresses, where he talks about his innovative, minimally – invasive endonasal techniques.
"I'm overwhelmed," says N N about her new look. ,, Now I can show myself again and have regained my self – esteem." I held it for unthinkable that such a beautiful result could still be achieved." People talk about cosmetic surgery as rarely as about their income. N N, however, openly answers all questions. Why? Out of gratitude, says the 30- year old. She's not only a celebrity, but shows herself to be approachable, allows her followers to participate in her life, also reveals her concerns. The new nose plays an important role for myself, and as a mother of a little boy and a little one girl. "I wished that they have a mom who is balanced and is happy. As long as the deformity of my nose overshadowed my life, I couldn't give them everything they deserve."
"A lot of people say looks are not that important. To myself it is important. I am very critical with myself and a perfectionist. Having these two qualities is not ideal," says N N, "but I have to live with them."
Performing surgery in the face of a Miss World is a challenging task. Was Professor Holger Gassner nervous before the OP? "The tension was no different than usual," he says. "For every single patient, the appearance and function of the nose is of paramount importance. You invariably give your very best, regardless who your patient is. The surgeon is used to prominent patients from the fashion business, media, and athletes. As our paper found out, just recently a prominent female flew in her private Lear jet for treatment. Asked about the role of VIPs in his practice, the professor says only: ,,Attention and responsibility is equal ", with a billionaire being no different than a woman who saves the money for a correction, because they see sees herself differently than what the mirror shows.
The professor is a philanthropist. He received his surgical training together with Professor Kofi Boahene at the famous Mayo Clinic in Rochester. During their training, the two friends shared a vision: To build a specialized hospital to take care of patients with facial deformities in Ghana: The 2.2 million Euro pro bono project is financed through donations. One milestone has been achieved by the two top surgeons from Regensburg and Johns Hopkins Medical Center: The ground is broken, construction has begun and for now, around 700,000 Euros have been collected. These include donations from patients, as well as proceeds from charity events. But 1.5 million euros are still missing. Gallery Lesmeister will host a charity for the two doctors at the end of August. The title of the exhibition in the Bachgasse could not fit better: "Belle toujours?!"